PROBLEM
Inconsistencies in humidity and temperature levels affect wood in storage and during production cycles. Wide "swings" in these levels cause warping and cracking of the unprocessed wood, and slowing production through computerized machinery. Automated paint application is more difficult in lower humidity.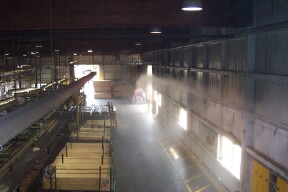 SOLUTION
TrueFog, USA® humidification systems have the solution. Using computerized sensors and controls, a level and constant humidity can be maintained in the factory or store area. Typical humidity levels of 35% in the paint room and 80% in the storage area are maintained ± 1% at all times.

TrueFog, USA® fog nozzles are installed on flexible or rigid stainless steel fog lines throughout the factory to provide fine fog and humidity control. A fan system ensures proper air movement and air exchange.
| | |
| --- | --- |
| | User-friendly computerized measurement and monitoring systems ensure that the correct humidity levels are maintained. Fully programmable, they provide feedback and control to a central control system. Dust suppression can be introduced in the sawing and shaping areas. Odor control liquids can also be incorporated for painting areas to suppress the malodors. |