SPECIAL EFFECTS and THEME PARKS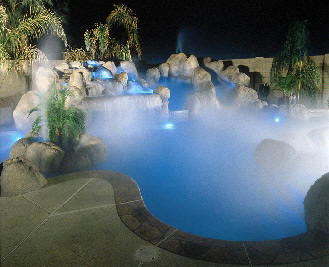 PROBLEM
To create "smoke" or "fog," theme parks and movie stu
dios have often had to resort to chemicals or oils to produce the required special effect.



SOLUTION
The TrueFog system offers a safe alternative to these methods. Using only high-pressure water, our systems create the required atmosphere with no discomfort or possible injury to spectators or actors.

Utilizing water at 1,000 PSI (75 Bar), TrueFog produces ultra fine mist droplets that float freely in the air and create a fog or mist wherever required. Pure water fog is safe and economically viable to create the theme or scene desired.

For permanent installations the TrueFog system is installed using flexible nylon lines with adjustable patented fog nozzles strategically placed to give the right atmosphere and effect. Computerized Valving arrangements allow the system to be started or pulsed whenever needed either using the TrueFog control system or by the designers own equipment. TrueFog engineers can specifically design each application according to your needs.